The F3 is a well-designed drone by 4DRC, it is a cost-effective drone capable of 4K video and has all the basic drone features and more, as well as good flight, battery and features.
Before we talk about its features, what comes in the box of the 4DRC F3? Inside the box, we can find the 4DRC F3 drone with its transmitter, 2 batteries, a carrying case, a USB charging cable for the drone, 1 USB charging cable for the transmitter, 4 spare propellers, 4 spare screws, and a screwdriver.
Design
The dimensions of the 4DRC F3 are 33 x 33 x 6 cm (13 x 13 x 2.36 in), and weighs 1000g (2.2 lbs), and it capable of being fold to be carried easier.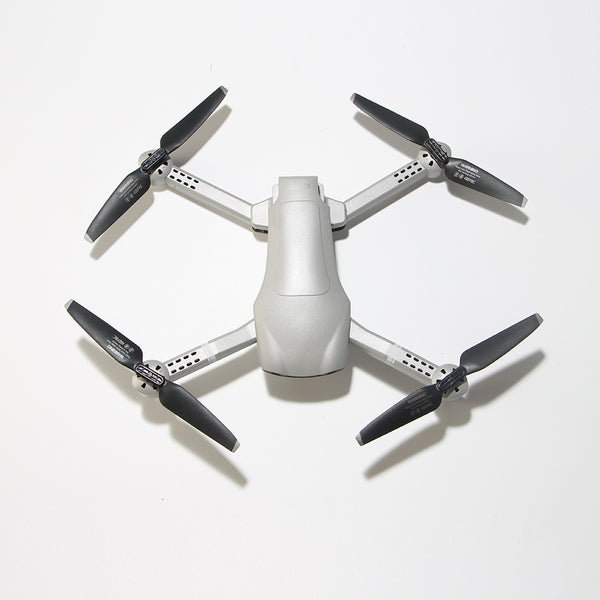 The 4DRC F3 has a classic quadcopter look with 4 propellers design, it is well built with good quality plastics which feel pretty resistant, and it has a nice grey color.The 4DRC F3 comes with 4 replaceable propellers, if one of your propellers got damaged you are able to replace and switch them.
Video and Flight Stabilization
Under the body we can see small landing legs, below we see the action camera mount with a gimbal holding it for stable videos.
The 4DRC F3 comes equipped with an adjustable 4K camera which will give you pretty good-looking footage, the built-in camera comes with 2-axis self-stabilizing gimbal technology, it will provide clear pictures and smooth videos and will keep the footage steady.
The image quality on the 4DRC F3 is pretty average, it offers pretty good natural colors with a FOV of 90° wide-angle lens. 
Battery
The 4DRC F3 comes with 2 rechargeable 7.4V 2000 mAh battery which you can charge with the USB Battery Charger, which can last about 30 minutes, it will take about 2h to charge them.

The battery is situated at the bottom inside, where there is a cover that gives access to the battery. You can also always buy separate batteries for it and change them whenever the first battery runs out.
Modes and Features
The 4DRC F3 comes with many modes and features to improve your flying experience and make it easier for beginners.
The 4DRC F3 has three different smart home return functions: One-touch low power return or out-of-range return. Whether your drone loses connection to the transmitter or runs low power, the Fancool drone is designed to safely return to its point of origin.
Thanks to its equipped GPS positioning, we have a follow-me mode your drone will follow you wherever you go, it's a fun mode to easily record yourself. Whether you do sports or recording family moments, trips, and just about anything you can think.
The Headless mode allows you to fly no matter what direction the aircraft is facing, the forward stick is forward, and the back stick is backward. 
Altitude hold allows you to lock the drone's position in the air at a certain height. Whether you are a novice or expert flyer, helps you to control the drone like a veteran.
Gesture control is another great mode so you can use your drone in a different way. When you are facing the drone camera and a "YEAH" gesture is made at a distance of 2-3m between you and the camera, the camera takes a photo; when you make a "PLAM" gesture the camera starts recording.
The tap fly mode by trajectory or "Waypoint mode", allows you to pre-program a sequence of actions by drawing a flight course in your app interface and the Fancool drone will follow. 
To be able to use the 4DRC F3 on your smartphone you need the smartphone app that you can easily install and take control of the drone and fly with it and control its features and modes.
The 4DRC F3 is pretty easy to learn and will get you all those great aerial shots you would want in a drone with the 4K camera, it also carries a 2000 mAh battery which will give you plenty of time to record, and great flight distance.
We recommend getting it if you are looking for a great higher-end drone.